EC Healthcare Collaborates with New Horizon Health to form Strategic Partnership To Jointly Launch CerviClear in Hong Kong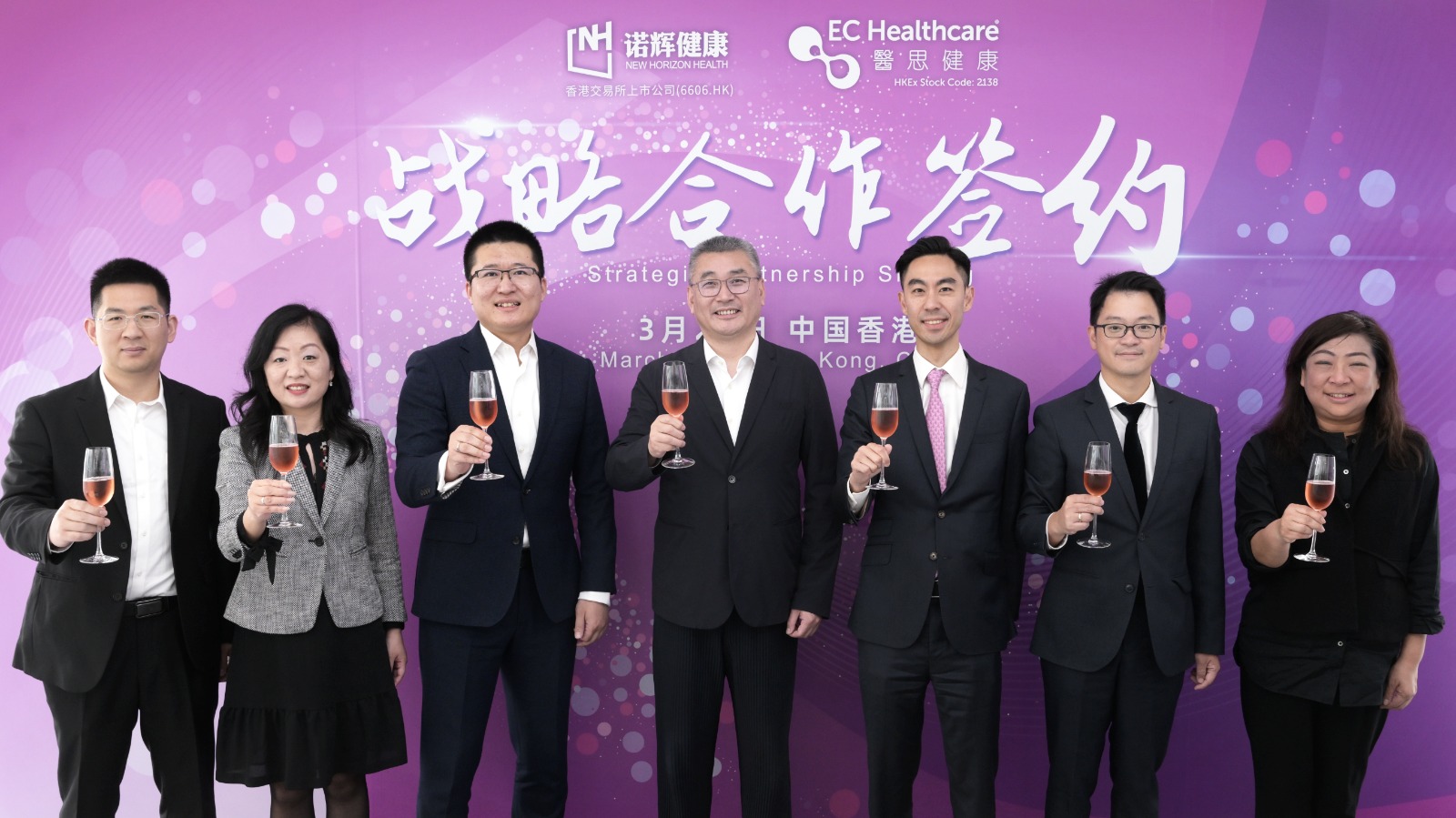 EC Healthcare and New Horizon Health hosted a ceremony today to form an exclusive strategic partnership. Both parties will consolidate the resources to empower the launching, distribution, and promotion of CerviClear in Hong Kong. It is expected this home-use cancer screening product will help to increase the awareness penetration of Cervical cancer prevention, and achieve better prevention efficacy. Under the Partnership, EC Healthcare is the exclusive partner of New Horizon Health for CerviClear in Hong Kong.
Cervical cancer is a common malignant tumor for women. The morbidity and mortality have been rising in recent years, with a notable trend of rejuvenation. Cervical cancer is also the only cancer with an evident cause and can be eliminated through early intervention. Developed by New Horizon Health, CerviClear is the first Urine-based HPV Detection and Cervical Cancer Screening Test in the world. It is the only product comprehensively covering all 14 high-risk HPV viruses and achieves non-invasive home-based urine self-sampling. The product has already obtained a CE Mark, and is qualified to be launched in Hong Kong and the Greater Bay Area.
Mr. Leslie Lu, Executive Director and Co-CEO of EC Healthcare said, "We are glad to partner with New Horizon Health, a leading cancer screening company. The Group treasures strategic cooperation with upstream partners in the pharmaceutical field as the core strategy. Through collaboration with partners in biotech and pharmaceutical industry, the Group will further improve the preventive medicine market influence and further consolidate its industry leading position. This Partnership enables the Group to further diversify its service product mix by leveraging vaccination, health check and multiple medical specialties services to complete the one-stop ecosystem. We believe the collaboration will also accelerate the Group to achieve vertical integration of the industry value chain."
Mr. Zhu Yeqing, Executive Director and CEO of New Horizon Health said︰ "The effective way to promote the prevention of high-risk cancer is to provide convenient, reliable and compliant innovative screening products. CerviClear is the first product in the world that achieves urine self-sampling. Compared with the clinical examination, patients no longer needs to visit a hospital and the sampling procedure is non-invasive and painless. It is expected to significantly lower the time cost and pressure level for patients. EC Healthcare is the leading healthcare services provider in both Hong Kong and the Greater Bay Area. We are glad to partner with EC Healthcare and believe the partnership becomes a milestone for our pipeline and innovation commercialization."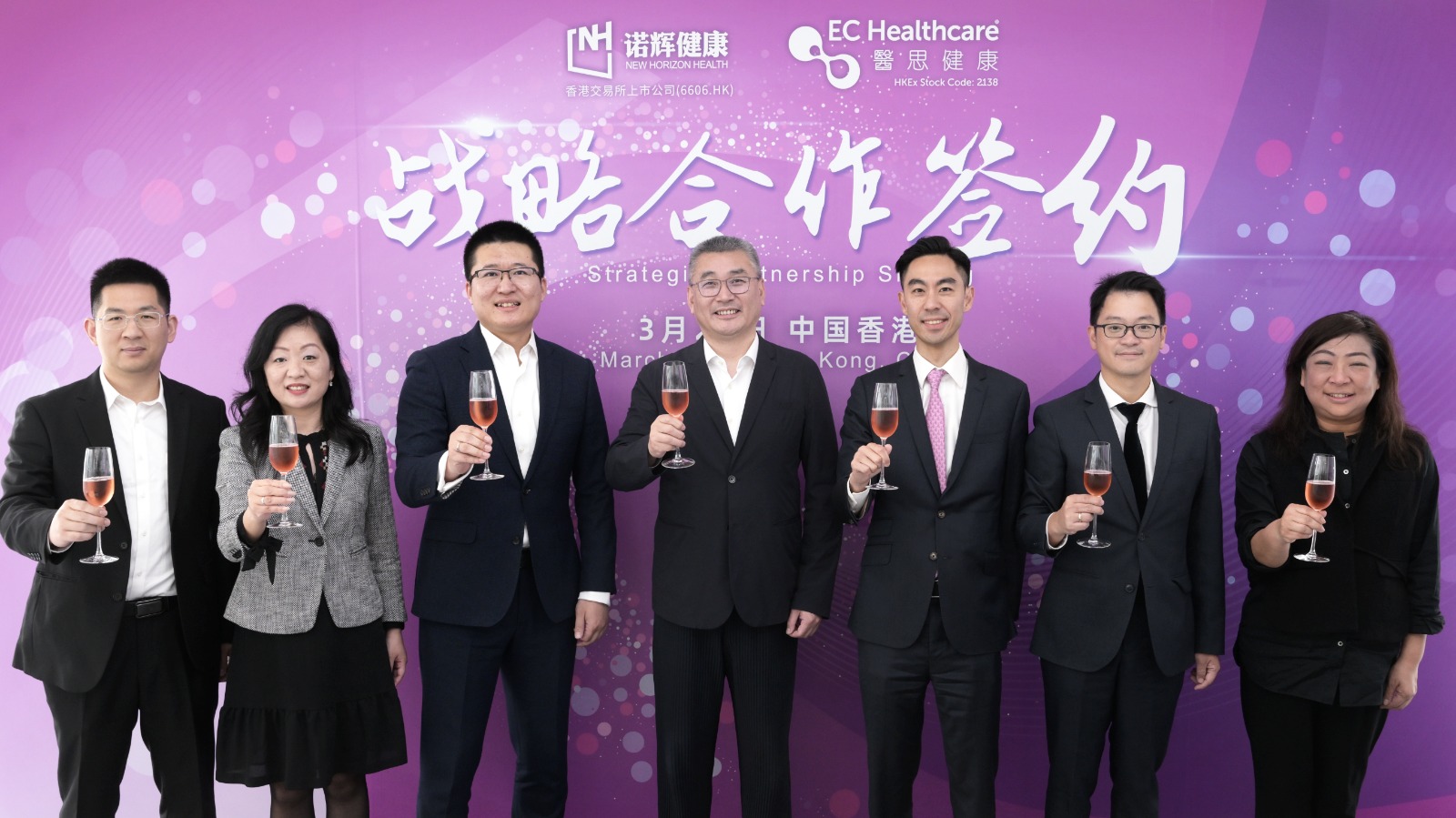 Left to right: Mr. ZHENG Weixian Senior Director of Operation management, New Horizon Health, Dr. Rita Shih Head of International R&D Center, New Horizon Health, Mr. Li Yan Vice President, New Horizon Health, Mr. Zhu YeQing Chairman and CEO, New Horizon Health, Mr. Leslie LU Executive Director and Co-Chief Executive Officer, EC Healthcare,Dr. Eric CHU Chief Business Officer, EC Healthcare, Dr. Julie CHOW Chief Proposition Officer (Healthcare), EC Healthcare